Tottenham 0-1 RB Leipzig: Champions League last 16 – as it happened
Minute-by-minute: Leipzig outplayed Spurs as Timo Werner's second-half penalty gave the upwardly mobile Germans the win and a precious away goal. Scott Murray was watching.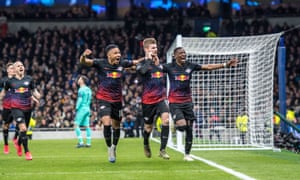 Key events
Show
9.55pm

GMT

21:55

FULL TIME: Tottenham Hotspur 0-1 RB Leipzig

9.17pm

GMT

21:17

GOAL! Tottenham Hotspur 0-1 RB Leipzig (Werner 58 pen)

9.15pm

GMT

21:15

Penalty for Leipzig!

8.49pm

GMT

20:49

HALF TIME: Tottenham Hotspur 0-0 RB Leipzig

6.59pm

GMT

18:59

Tonight's teams

5.41pm

GMT

17:41

Preamble
Live feed
Show
10.37pm GMT22:37
And so the evening ends with another man-management masterclass from Jose Mourinho. If you squint really hard, and peer between the lines, you may conclude that he's not totally happy with his lot. Should Chelsea beat Spurs at the weekend, his post-match interview could be the most riotous thing transmitted live on television on a Saturday lunchtime since the days of Tiswas. You'll join us for that one, yes? See you soon!
10.30pm GMT22:30
It's not quite up there with his famous Chelsea-Southampton soliloquy, but Jose Mourinho's post-match interview is quite something. BT Sport's Des Kelly tries to get proceedings off to a positive start, asking whether we "saw the real Spurs in the last 20 minutes". A glance is shot, Mourinho's steely gaze lingering longer than is strictly comfortable. "Come on. What do you mean by the real Spurs? Come on. Tch. Come on. Let's be loyal to the boys and tell they did everything they could do. Lamela? You know how many training sessions he made with the team? Zero. Direct from injury to recovering on the pitch with the physios, to 20 minutes of a game in the Champions League. That is our team. You can see it from two perspectives. One perspective is, it's an amazing group with amazing guys. They try everything. By another side you see how we are in this moment. You look to the other guys, they play with Schick and Werner and Nkunku. Nkunku is tired, come out, there's Forsberg. Schick is tired, come out, there's Poulsen. This is our situation, it's like going to a fight with a gun but without bullets. You can tell me we had luck in some moments. I disagree. We had a great goalkeeper, that is not luck, that is a great goalkeeper. We had our chances and tried everything. I thank the fans. What worries me is,these are our players for the next, I don't know how many matches. In the next few matches we could see Lucas dead, Bergwijn dead, Lo Celso dead. I am so proud of them. But we are really in trouble. Don't tell me that Lamela and Ndombele could start the game, because they could not. But I could not be happier to have guys like them with the limitations we have, but here we go! Chelsea are drinking sparkling water with lemon while watching the game on TV, and Saturday morning, thank you very much, we are there again."
10.13pm GMT22:13
Jacob Steinberg was our man at the Tottenham Hotspur Stadium this evening. His verdict is in ... and here it is!
10.09pm GMT22:09
Hugo Lloris speaks. "I want to stay positive, especially after the last 20 minutes. Obviously if we started the game in the same way, the score would be different. But there is a second leg, we still have a chance. We are still alive. We were a bit more proactive with the ball. But we have to give a lot of credit to Leipzig, they press very high and are a very good team. We have to stay positive, not give up, not try to find excuses, and fight to the end. We are not really happy, but we have to deal with that. Let's hope we can create another story." He's then given the man-of-the-match award, and doesn't look particularly pleased to receive it. "Er, OK, but I'd have preferred a win."
10.01pm GMT22:01
Spurs depart for the dressing room looking glum. They were second best for most of that game. The match winner, Timo Werner, was excellent. So was Patrik Schick, though he missed one glorious chance to put Spurs in all sorts of trouble. Tottenham can take heart from the performance of Giovani Lo Celso, who sparkled in attack, and their performance during the last 20 minutes, when Lo Celso and Erik Lamela finally asked a few questions of Leipzig. But they've got a big job on in Saxony in three week's time. The visitors stay on the pitch and celebrate with their fans. After this half-match (© Jose Mourinho) they're halfway to the quarter finals.
9.55pm GMT21:55
FULL TIME: Tottenham Hotspur 0-1 RB Leipzig
Bergwijn nearly beats Ampadu to a long ball down the middle, but the young Welsh defender holds firm, and that's that. Spurs have been outplayed at home and are reasonably fortunate to have limited the damage to a single goal. But all is not lost. They've been here before. Two words: Ajax Amsterdam.
9.53pm GMT21:53
90 min +4: Lamela is booked for leaving a stiff arm in Sabitzer's startled coupon.
9.53pm GMT21:53
90 min +3: Bergwijn slips a pass down the inside right, forcing Ampadu into a desperate interception, sliding the ball out for a corner. But Lo Celso's delivery is overcooked and flies out the other side for a goal kick.
9.51pm GMT21:51
90 min +2: Winks tries to guide a shot towards the top right from the best part of 30 yards. It's weakly struck and easily snaffled by Gulacsi.
9.50pm GMT21:50
90 min +1: Leipzig knock it around the middle. Sixty seconds fly by.
9.49pm GMT21:49
90 min: Ampadu goes down with cramp. Mukiele needs a couple of swabs up a bloody nose. The clock ticks on. There will be five extra minutes.
9.48pm GMT21:48
89 min: Some pinball on the edge of the Leipzig box. Davies loops a cross in from the left. Halstenberg mistimes his jump, missing the ball and gifting Moura a free header, six yards out. He's got to work the keeper at the very least, surely, but slaps his header over the bar. What a chance.
9.46pm GMT21:46
87 min: Forsberg and Werner combine well down the left and earn a corner off Alderweireld. Leipzig don't commit many players upfield, and the set piece is easily cleared.
9.45pm GMT21:45
86 min: The corner is hit deep. Moura does well to rise highest, but can't get a header on target. A melee, in which a couple of Spurs players fall over. Nobody claims for a penalty.
9.45pm GMT21:45
85 min: Leipzig are beginning to ask for trouble, sitting deep and allowing Spurs to come at them. Moura comes racing down the middle and is upended by Forsberg. A free kick from a central position, 30 yards out. Lamela takes, curling one towards the bottom right. It's going wide, but Gulacsi turns it around the post anyway. A free corner for Spurs.
9.43pm GMT21:43
84 min: Some space down the right for Aurier, who whips a cross into the mixer. It's easy meat for Gulacsi.
9.42pm GMT21:42
83 min: Emil Forsberg takes Konrad Laimer's place.
9.42pm GMT21:42
82 min: Laimer goes down clutching his shoulder. He'll be replaced. He takes his own sweet time to leave, in the grand clock-management style.
9.40pm GMT21:40
80 min: Halstenberg clearly obstructs Aurier as the Spurs man looked to break clear down the right. No foul, according to the referee. That's a preposterous decision, and no wonder Jose Mourinho, on the touchline, performs the internationally recognised jig of fury, throwing his arms about, spinning around, effin' and jeffin' into the cool night air.
9.38pm GMT21:38
79 min: A lot of frantic nonsense in the midfield. Both teams fully aware of how important the next 11 minutes, plus stoppages, could be.
9.36pm GMT21:36
77 min: Spurs have enjoyed most of the possession during the last ten minutes, so Nagelsmann makes another switch. Yussuf Poulsen replaces Patrik Schick.
9.35pm GMT21:35
75 min: Lamela puts himself about in the Argentinian style, a sly block here, a cheeky clip there. That's also got the crowd shouting again. Plenty of noise as Spurs look for a precious equaliser.
9.33pm GMT21:33
74 min: Leipzig make their first change of the evening. Christopher Nkunku is replaced by Amadou Haidara.
9.32pm GMT21:32
73 min: Lo Celso curls one towards the top left. It's a wonderful free kick, sailing in, but it's tipped onto the post by Gulacsi and out for a corner. Nothing comes of the set piece, but that's got the crowd going for the first time in ages. Lo Celso has been seriously impressive this evening.
9.31pm GMT21:31
72 min: Lo Celso runs hard at Leipzig again. He's clearly being tugged back by Nkunku, and earns a free kick, just to the right of the D. Nkunku is booked. A promising position, this, though before the whistle blew for the foul, Lo Celso had Aurier in acres to his right. But this is where we are.
9.29pm GMT21:29
70 min: Leipzig sit back and stroke it around with great confidence. Time is already on their side.
9.27pm GMT21:27
68 min: Lo Celso has been Tottenham's best player this evening, their only hope in attack. He dribbles elegantly down the inside-right channel, momentarily threatening to tie Leipzig up in knots. But he can't find the killer pass.
9.26pm GMT21:26
66 min: Dele Alli is seething. But Mourinho had to do something. Here's Peter Crosby: "Ah Ben Davies. Ah, Serge. We're back to the glory days of my youth when Dean Austin and Justin Edinburgh were tearing up and down the flanks letting in goals left, right and centre."
9.24pm GMT21:24
64 min: Spurs make a double change. Off goes Gedson Fernandes and an affronted Dele Alli; on come Erik Lamela and Tanguy Ndombele.
9.22pm GMT21:22
62 min: Leipzig nearly score after a wonderful sweeping move. There's acres for Angelino down the left. He rolls a pass inside for Werner, who throws Alderweireld off the scent with a sensational dummy, letting the ball roll to Schick, free on the penalty spot. He has to score, but flashes his shot straight at Lloris. Great save, but he should never have been allowed to make it. What a lovely move that was. Werner is living up to his billing.
9.20pm GMT21:20
61 min: A little space for Bergwijn down the left. He drifts inside then checks back and tees up Lo Celso, who pearls a decent strike towards the bottom right from 20 yards. It's well read and easily gathered by Gulacsi, though.
9.19pm GMT21:19
60 min: Spurs try to bounce back immediately, Lo Celso bursting down the right into space. But there's nobody near his pullback, and the visitors can clear with ease. There's a break on, with the livewire Werner romping down the left, but he's well marshalled away from the danger zone by Sanchez.
9.17pm GMT21:17
GOAL! Tottenham Hotspur 0-1 RB Leipzig (Werner 58 pen)
Werner, as cool as a pickled cucumber, fires a low penalty into the bottom left. Lloris had guessed correctly, but even at full stretch couldn't get anywhere near it. A crucial away goal for the Germans.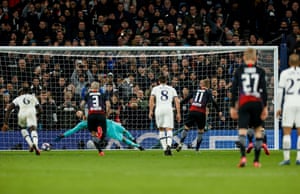 Updated at 9.35pm GMT
9.16pm GMT21:16
57 min: Laimer took a bit of a whack. Looks like he'll be OK, but there's a pause before Werner can take the spot kick.
9.15pm GMT21:15
Penalty for Leipzig!
56 min: Leipzig stroke it around the back awhile, then suddenly spring forward, triangulating at speed down the right. The ball's switched to the other flank. Werner glides inside and slips a pass down the middle for Laimer, who takes a touch, enters the box, and is upended by a crude block by Davies. Foul, booking, penalty. No question.
9.12pm GMT21:12
54 min: A simple ball down the middle causes Sanchez all sorts of problems. He heads it straight into the air and back down towards Werner, who accepts the gift and purchases a cheap corner. Nothing comes from the set piece, but after a slow start to the second half, Leipzig are beginning to reestablish their earlier control.
9.11pm GMT21:11
52 min: Nkunku tries to whip one over the wall and into the top left. It's not a good effort, the ball sailing serenely over the crossbar.
9.10pm GMT21:10
51 min: Schick bursts down the left and is cynically clipped from behind by Aurier. Not exactly sure why the Spurs full-back hasn't gone into the book, but there we are. It's a free kick in a dangerous position, though, 25 yards out, just to the left of the D.
9.09pm GMT21:09
50 min: Leipzig loop crosses into the Spurs box from the left and then from the right. The home defence holds firm, though Werner was again buzzing around their heels with great purpose. It's very odd that this game remains goalless.
9.08pm GMT21:08
48 min: Spurs launch their first meaningful attack of the evening. Aurier swings a low cross in from the right. Moura extends a leg and forces Gulacsi into a parry from close range. Bergwijn hoicks the rebound harmlessly wide left. But that's so much better from the hosts, and the home fans respond accordingly.
9.06pm GMT21:06
And we're off again! Spurs get the second half underway, and there have been no half-time changes. Not long after the restart, the Leipzig fans fling on a few toilet rolls. Everyone's a critic. They unfurl a banner which reads STAND UP FOR A FAIR PRICE CAP. Applause from all four corners of the stadium. After a clean-up operation, the game eventually restarts.
9.04pm GMT21:04
Spurs weren't great in that first half, but their fans remain four-square behind the team. "The way I see it, Tottenham have no striker, no defensive midfield, and are keeping a clean sheet against a team in form," argues Gregory Greene. "Our attackers aren't fluffing chances (they aren't getting any honestly), and I've seen Tottenham defend worse. I can't really be mad." Meanwhile James Hopkin thinks a happy ending is written: "The big question in tonight's game (apart from which minute with Spurs score a late smash and grab winner) is why do a couple of the RBL players (e.g. Timo Werner) have all-white logos on their shirts and others have full colour red bulls?" I have no idea. To get us all talking about everybody's favourite nerve-end-bothering beverage?
8.50pm GMT20:50
Half-time entertainment. There have been goals in tonight's other match. Simon Burnton has the details. But don't forget to come back, y'all.
8.49pm GMT20:49
HALF TIME: Tottenham Hotspur 0-0 RB Leipzig
Alli busies himself down the left, flatly refusing to give up possession and winning a corner off Halstenberg. The same Leipzig defender heads the corner clear, and there's that whistle. Spurs will be pleased to get to the break without conceding. Leipzig have been by far the better side, and will wonder how they haven't bagged a crucial away goal. Some work for Mourinho to do during the break.
8.47pm GMT20:47
45 min: And that half-time whistle will be heard in roughly 60 seconds time.
8.46pm GMT20:46
44 min: Werner probes again down the left. Aurier just about holds him up. Spurs could do with the half-time whistle, though in retrospect that's been the case since the 26-second mark.
8.44pm GMT20:44
42 min: Here comes Werner again, down the left, winning another corner off Sanchez. The corner, once again, is not worthy of our time or consideration.
8.43pm GMT20:43
41 min: Werner whizzes down the left and nearly finds Schick in the middle, six yards out. Schick would be slamming home a sidefoot, but Sanchez slides in to bundle the ball out for a corner. What a glorious saving tackle. The resulting corner is a complete non-event.
8.42pm GMT20:42
39 min: Mukiele is back on. Good news for Leipzig, as he's been involved in a lot of their best attacks. Out on the other flank, Fernandes drops a shoulder to get past Angelino, and whips a cross to the near post, but Alli can't get his head on the ball. Tottenham's best half-chance of this half-match.
8.41pm GMT20:41
38 min: Mukiele is down in some pain, having taken an accidental whack to the left knee. That knee's already covered in tape, so he could have aggravated an existing problem. He grimaces an awful lot as he limps off for more treatment.