Daniil Medvedev beats Rafael Nadal: ATP Tour Finals 2020 semi-final – as it happened
Daniil Medvedev recovered to beat Rafael Nadal for the first time in his career and reach the final.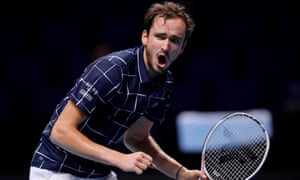 Key events
Show
10.56pm

GMT

22:56

Daniil Medvedev reaches the final with a 3-6 7-6(4) 6-3 win over Rafael Nadal

10.04pm

GMT

22:04

Daniil Medvedev pulls level with Rafael Nadal at 3-6, 7-6(4)

9.08pm

GMT

21:08

Rafael Nadal takes the first set 6-3 on Daniil Medvedev

6.39pm

GMT

18:39

Preamble
Live feed
Show
11.15pm GMT23:15
Here is Kevin Mitchell's report from a very eventful semi-final day. That's all from me today. Thank you for following this evening and we will be back tomorrow for the final match of this peculiar season.
11.11pm GMT23:11
This time last year, Daniil Medvedev failed to see out a 5-1 third set lead against Rafael Nadal, eventually losing after holding match point. He finished his ATP Finals debut 0-3 and miserable. A year later, he has his first ever win over Nadal and he enters the final with a perfect 4-0 record. Growth.