UK coronavirus live: Angela Rayner attacks Boris Johnson at PMQs over testing and care homes
News updates: Labour leader out of self-isolation but not in time for PMQs; testing shortage could lead to 'lockdown by default', says teaching union head
Key events
Show
1.50pm

BST

13:50

New Rhondda Valley restrictions linked to Doncaster Races trip

1.34pm

BST

13:34

Advocate general offering to resign from government over internal market bill, BBC reports

1.27pm

BST

13:27

PMQs - Snap verdict

11.58am

BST

11:58

PMQs

11.57am

BST

11:57

Williamson says schools in England have testing kits they can use

11.36am

BST

11:36

Starmer out of self-isolation after child's test comes back negative

11.12am

BST

11:12

Labour says it's urgent for ministers to fix testing system
Live feed
Show
2.07pm BST14:07
A hospital boss in Bolton has urged people to stay away from its accident and emergency unit unless strictly necessary after nearly 100 turned up to request Covid-19 tests. As PA Media reports, the plea came as admissions of patients with coronavirus increased over the weekend and the infection rate across the borough - the highest by far in England - continued to rise sharply. Bolton NHS foundation trust, which is based at the Royal Bolton hospital in Farnworth, said this morning there were three coronavirus patients in critical care and a total of 20 on wards. It added an increased number of patients under 65 are being admitted, with some in their 40s and 50s.
The trust's medical director, Dr Francis Andrews, said:
We are seeing more people being admitted with confirmed or suspected Covid-19 as a result of the very high rate of infections in Bolton. This is not a shift we want to see.

The situation at the hospital is under control and we were well prepared for this.

However, the rate continuing to rise is of concern and we continue to urge the people of Bolton to consider others when making decisions that could jeopardise their safety.
Updated at 2.08pm BST
2.03pm BST14:03
Here is the Guardian story by my colleagues Heather Stewart and Severin Carrell about Lord Keen of Elie being on the brink of leaving the government.
1.50pm BST13:50
New Rhondda Valley restrictions linked to Doncaster Races trip

Steven Morris
A trip to Doncaster Races has been blamed for a cluster of coronavirus cases in the Rhondda Valley, south Wales, as restrictions were tightened severely.
The Welsh government said one of the clusters in the area was associated "with a club outing to the Doncaster races, which stopped off at a series of pubs on the way".
More than 2,500 spectators were allowed into the first day of the meeting last week.
Other clusters are associated with a rugby club and pub in the lower Rhondda.
A range of new measures will come into force from 6pm tomorrow.
People will not be allowed to enter or leave the Rhondda Cynon Taf council area without a reasonable excuse.
People will only be able to meet outdoors for the time being. People will not be able to meet members of their extended household indoors or form an extended household.
All licensed premises will have to close at 11pm.
The Welsh health minister, Vaughan Gething, said:
We have seen a rapid rise in cases in Rhondda Cynon Taf in a very short space of time, linked to people socialising indoors and not following social distancing guidelines.

We now have evidence of wider community transmission in the borough, which means we need to take urgent action to control and, ultimately, reduce the spread of the virus and protect people's health.
The latest figures show the rolling seven-day new case rate is 82.1 per 100,000 people in Rhondda Cynon Taf. Yesterday, the testing positivity rate was 4.3% – this is the highest positivity rate in Wales.
Contact-tracing teams have been able to trace about half of the cases back to a series of clusters in the borough. The rest are linked to community transmission.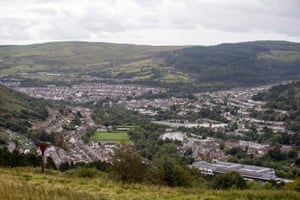 Updated at 2.14pm BST
1.38pm BST13:38
From Joanna Cherry, the SNP's justice and home affairs spokesperson in the Commons:
Updated at 1.39pm BST
1.34pm BST13:34
Advocate general offering to resign from government over internal market bill, BBC reports
This is from the BBC's Glenn Campbell.
If Lord Keen of Elie is resigning as advocate general for Scotland, and a Ministry of Justice spokesperson in the House of Lords, it may have something to do with Brandon Lewis, the Northern Ireland secretary, telling a committee this morning that something Keen said yesterday was just plain wrong. (See 10.07am.)
Updated at 1.53pm BST
1.27pm BST13:27
PMQs - Snap verdict
Angela Rayner went into PMQs with much expected of her, at least from her own side. Although Sir Keir Starmer has mostly dominated in his exchanges with Boris Johnson, he has been judicious in what he has said, leading to mutterings that Labour needs to be more aggressive and hard-hitting, a tone Rayner was always likely to be more comfortable adopting. Johnson cannot patronise her as a north London lawyer. And many observers think he is uncomfortable facing women at the dispatch box (an assessment accepted so widely that Emily Thornberry made it central to her leadership campaign).
In the event Rayner was refreshingly different, and perfectly creditable, but she did not deliver the drubbing may have been hoping for and Johnson ended the session effectively unscathed. It was not a heroic performance by the PM, and the encounter was more or less a draw, but given how things have been going for him recently at the dispatch box, that counts as a good result.
Like most events on TV that attract strong feelings among viewers, PMQs is harder than it looks, and experience matters, and that probably explains why Rayner did not deliver a knock-out. Her opening line about someone called Keir who could not go go work was lovely but it was a lead-in to a gotcha question (how much do care workers earn?), and to be effective those have to be relatively quick; her spiel went on for too long, allowing Johnson to use up most of his reply engaging with her other points before you noticed that he had not answered the question.
She caught him out with the Care England chief executive's quote, but at that point you wanted to hear Johnson pressed on why his understanding of what was happening did not square with reality. She later accused Johnson of saying the testing crisis was all the public's fault when any fair-minded observer would have concluded that that was not he was saying. (There's a difference between attributing cause and attributing blame.) And although it was interesting to hear the rule of six grouse shooting exemption raised, Rayner's question should have been reframed. She asked why it was the government's top priority, but most people will realise it wasn't. The question is why shooting should have qualified for any exemption at all.
There possibly is some mileage in a class attack on Johnson and his cabinet, but the Red Wall voters did not seem too bothered about his Eton pedigree at the last election and Rayner did not really pull it off this afternoon. But what was striking, though, was having someone who has worked a care worker at the dispatch box up against the PM. There is potential in that, worth exploiting more next time she's here.
Johnson was better than he has been in recent weeks partly because he dropped his ludicrous attempt to brand Labour as a party of IRA-loving remainers and towards the end he actually seemed relieved by how it had went. He concluded with his familiar tribute to the common sense of the British people, and how that was how coronavirus was going to be defeated. It was half-persuasive the first time he tried it but less so now because last week Johnson explicitly said at his press conference last week that government could not just trust people to "take responsibility for their own health" because they did not understand the risks. He is still struggling to reconcile his innate libertarianism with sensible public health policy.
Updated at 1.40pm BST
12.42pm BST12:42

Libby Brooks
Nicola Sturgeon haswarned that it is "highly likely that cases of serious illness and death will rise in the weeks to come" if community transmission of coronavirus continues, emphasising how important it is for people to limit their interactions "as much as possible to stem that spread".
At her media briefing, Scotland's first minister said that there were 267 positive tests yesterday, along with one death, adding that "cases are rising and we absolutely can't afford to be complacent about that".
National Records of Scotland published its weekly report today, confirming five deaths mentioning Covid-19 on the death certificate between 7 and 13 September, two of which occurred in a care home and three in a hospital.
As at 13 September, a total of 4,236 deaths by this measure have been registered in Scotland.
The NRS also published analysis which found that, after adjusting for age, people in the most deprived areas were over twice as likely to die with Covid-19 than those living in the least deprived areas. People living in larger urban areas were over four times more likely to die with Covid-19 than those in remote rural locations.
At the briefing, Fiona Hyslop, the Scottish government's economy secretary, said that she was writing again to the UK chancellor, Rishi Sunak, asking him to extend the furlough scheme beyond next month.
Updated at 12.49pm BST
12.38pm BST12:38
The SNP's Martyn Day asks what Johnson will do to honour the promise he made last year to take a fresh look at the plight of the Waspi women.
Johnson says he will look at this.
And that's it. PMQs is over.
12.37pm BST12:37
Dehenna Davison (Con) asks if the government will take all steps necessary to cut crime.
Johnson says it will. It is recruiting more police officers and toughening sentences for serious offenders.
12.36pm BST12:36
Stephen Doughty (Lab) says problems with testing in Wales originate in England. The government is incompetent. When will the PM get a grip?
Johnson says the opposition is being too negative. The system is continuing to improve. The average distance people have to travel is coming down. More people are being tested than in the rest of Europe. Labour just wants to score political points, he says.
12.34pm BST12:34
Johnson says the government will work as hard as possible to remove the current restrictions. But to do that, people have to continue to follow the rules.
12.33pm BST12:33
Rachael Maskell (Lab) asks if the government will extend the furlough scheme.
Johnson says he hopes she is not saying the existing scheme should just be extended. (She signals she isn't - Labour says it wants to extended only for certain sectors.) He says the government will continue to look at creative ways of keeping people in work.
12.31pm BST12:31
Steve Double (Con) asks about regional airports, which he says have been hit by the closure of Flybe.
Johnson says the government will continue to consider applications for public service requirements. And it will continue to consider the case for cutting air passenger duty, although he can't make a commitment now, he says.
12.29pm BST12:29
Joy Morrissey (Con) asks if the PM agrees the internal market bill will protect the UK.
Johnson says he could not have put it better himself.
(He probably did. It sounded like a question drafted in No 10.)